When

Tuesday November 30, 2021 11:00 am - 01:00 pm

Location

Life Time Work - Ardmore

Spaces left

4
Le Club Lecture - Session 1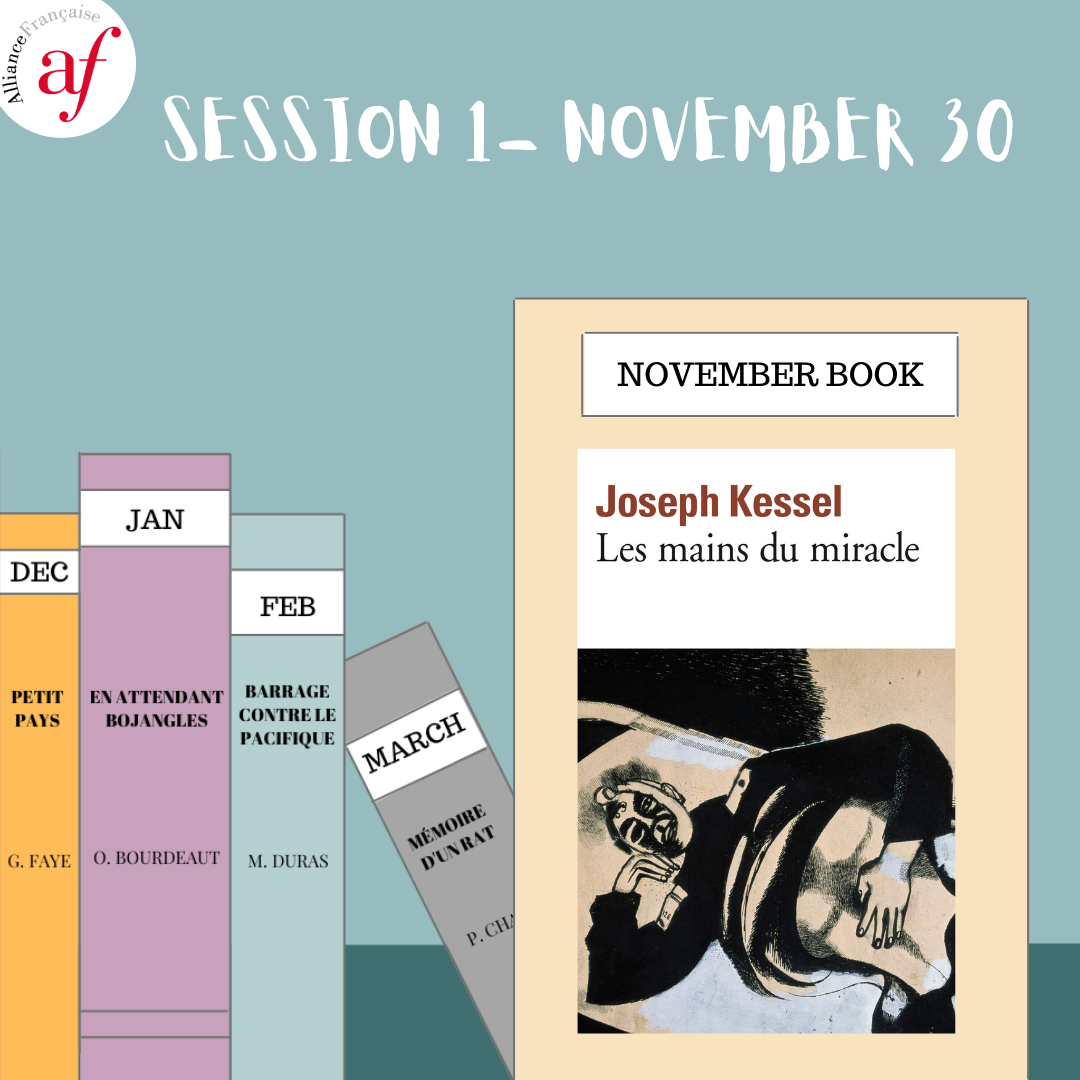 LE CLUB LECTURE
Join Nicole Layseca to talk about Francophone Literature !
The Alliance launches its own book club from November to March ! One tuesday per month, join the Club de Lecture to discuss the book of the month priorly read by all the attendees. Exchange about your emotions, opinions with the other members and get the opportunity to expand your literary culture and to improve your French!
*** BOOK OF THE MONTH ***
Les mains du miracle de Joseph Kessel - 416 pages


Writing Les mains du miracle (The man with the miraculous hands), the awarded author Joseph Kessel, member of the Académie Française, brought to light a little-known miracle of WWII. He chronicles the amazing story of Dr Felix Kersten, alternative medicine specialist and physician to one of the biggest dignitaries of the Third Reich, Heinrich Himmler. Kersten had the ability to alleviate Himmler's stomach pains with his hands, using massage and manipulation, and managed to obtain in return the release of thousands of concentration camp's prisoners.

Avec Les mains du miracles, Joseph Kessel, auteur récompensé, a mis en lumière un miracle peu connu de la Deuxième Guerre mondiale. Il réalise une biographie romancée de l'incroyable histoire du Dr Felix Kersten, spécialiste des médecines alternatives et médecin de l'un des plus grands dignitaires du IIIème Reich. Kersten avait la surprenante faculté de soulager les maux de ventre d'Himmler avec ses mains, utilisant le massage et la manipulation, et a obtenu en échange la libération de milliers de prisonniers des camps de concentrations.


The book is available for free on the Culturethèque for the AF Members. Non-members can purchase it here
*** WHAT YOU NEED TO KNOW ***
Frequency: Tuesday, November, 30


Time: 11:00 am


Duration: 1.5h - 2h


Location : Ardmore Location - 40 E Montgomery Ave, Ardmore, PA 19003 - ! Map avalaible below !
Language requirements : B2 level minimum - French speaking course
Fee: Non members : $15 per session / $55 for the 5 sessions. AF PHILADELPHIE Members : FREE



*** REGISTRATION - HOW DOES IT WORK ? ***
For both members and non members :

You need to register to the session at least 48h before the beggining of the session.


Please, note this page only allows you to register to session 1.

If you wish to register to the whole cycle (5 sessions), please register on the All Sessions webpage. The registration process is detailed.
.

*** NEXT BOOKS OF THE MONTH ***
Click on the session to access its webpage. You will be able to register for the single session and have more informations about the month book.


DECEMBER - Meeting on December 21
Petit pays de Gaël Faye - 218 pages
The book is available for free on the Culturethèque for the AF Members. Non-members can purchase it here


JANUARY - Meeting on January 25
En attendant Bojangles de Olivier Bourdeaut - 171 pages
You can purchase the book here


FEBRUARY - Meeting on February 22
Un barrage contre le Pacifique de Marguerite Duras - 364 pages
The book is available for free on the Culturethèque for the AF Members. Non-members can purchase it here


Mémoire d'un rat de Pierre Chaine - 192 pages

You can purchase the book
here
.
*** FRANCOPHONE LITERATURE AT THE ALLIANCE ***
The promotion of francophone literature is definitely at the heart of the Alliance's commitment, as it is a wonderful opportunity to account for the richness and the diversity of the French language as well as the multiple cultural influences attached to Francophonie. Also, it is always a great way to improve one's French reading comprehension !
While waiting for Le Club Lecture, do not hesitate to join our October literary event :
* * * HEALTH & SAFETY * * *
We would like to remind you the following in-person events' étiquette :
Covid proof of vaccination required

Mask mandatory during this event

*** NOT A MEMBER YET ? ***

Create your membership and join the AF members team !


*** USEFUL LOCATION RESOURCE ***
Image: /media/marketing_events/223/2.png
Sorry, you've missed the RSVP deadline for this event.