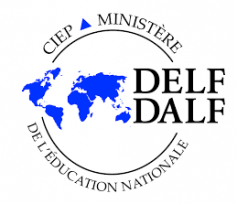 Validate your French level/knowledge with DELF and DALF,
an official international certification that you can use whether you want to study or work in a French speaking country !
DELF - Diplôme d'Études en Langue Française

DALF - Diplôme Approfondi de Langue Française
They are the only French as a foreign language diplomas issued by the French Ministry of Education. DELF and DALF diplomas are valid for life and are recognized worldwide. They allow you to officially validate your French learning. These diplomas constitute a recognition of your school, university and/or professional background in French language. Moreover DELF and DALF allows you to study, work and immigrate in a French-speaking country.
DELF and DALF diplomas are adapted to different levels, expectations, ages and situations.
DELF is made for everyone learning the French language from 18 to 77 (or more) who wishes to validate officially and sustainably their learning of the French language. It is divided into 4 levels: A1, A2, B1 and B2. On the other hand, DALF is targeting adults either at university or working. DALF is divided into 2 levels: C1 and C2, the highest levels. DALF C1 and C2 form the best diplomas of French language. The acquisition of a DALF is the proof that one masters the French language.

This table might help you find the right test according to your level :
DELF prim
(ages 7-12)
DELF junior
(ages 12-17)
DELF pro


DELF - DALF*


C2


x



C1


x



B2

x

x


x



B1

x

x


x



A2

x

x

x


x



B

x

x

x


x



A1.1

x


x



*You can take the DELF - DALF test at the Alliance Française de Philadelphie.
For DELF DALF PRIM & JUNIOR, contact PhilaFLAM : contact@philaflam.com
General Calendar 2021

NEXT SESSION : June 14 - 18, 2021
Registration : Now - May 28th, 2021
| | |
| --- | --- |
| A1 | $120.00 |
| A2 | $130.00 |
| B1 | $140.00 |
| B2 FULL FOR JUNE 2021 | $170.00 |
| C1 | $220.00 |
| C2 | $220. 00 |
---
To register, please download and complete the following form and mail or email it to the Alliance Française.

Registration Form
Registration Form
*Please be aware that due to COVID safety guidelines, we can only accept a limited number of candidates.
Alliance Francaise de Philadelphie: 1420 Walnut Street - Suite 700 - Philadelphia, PA 19102
E-mail: alliance@afphila.com

Want to prepare for the exam ? Alliance Française vous propose des cours de préparation au DELF.
---