When

Thursday September 21, 2023 02:50 pm - 05:50 pm

Location

1420 WALNUT ST
Rugby World Cup : FRANCE VS NAMIBIA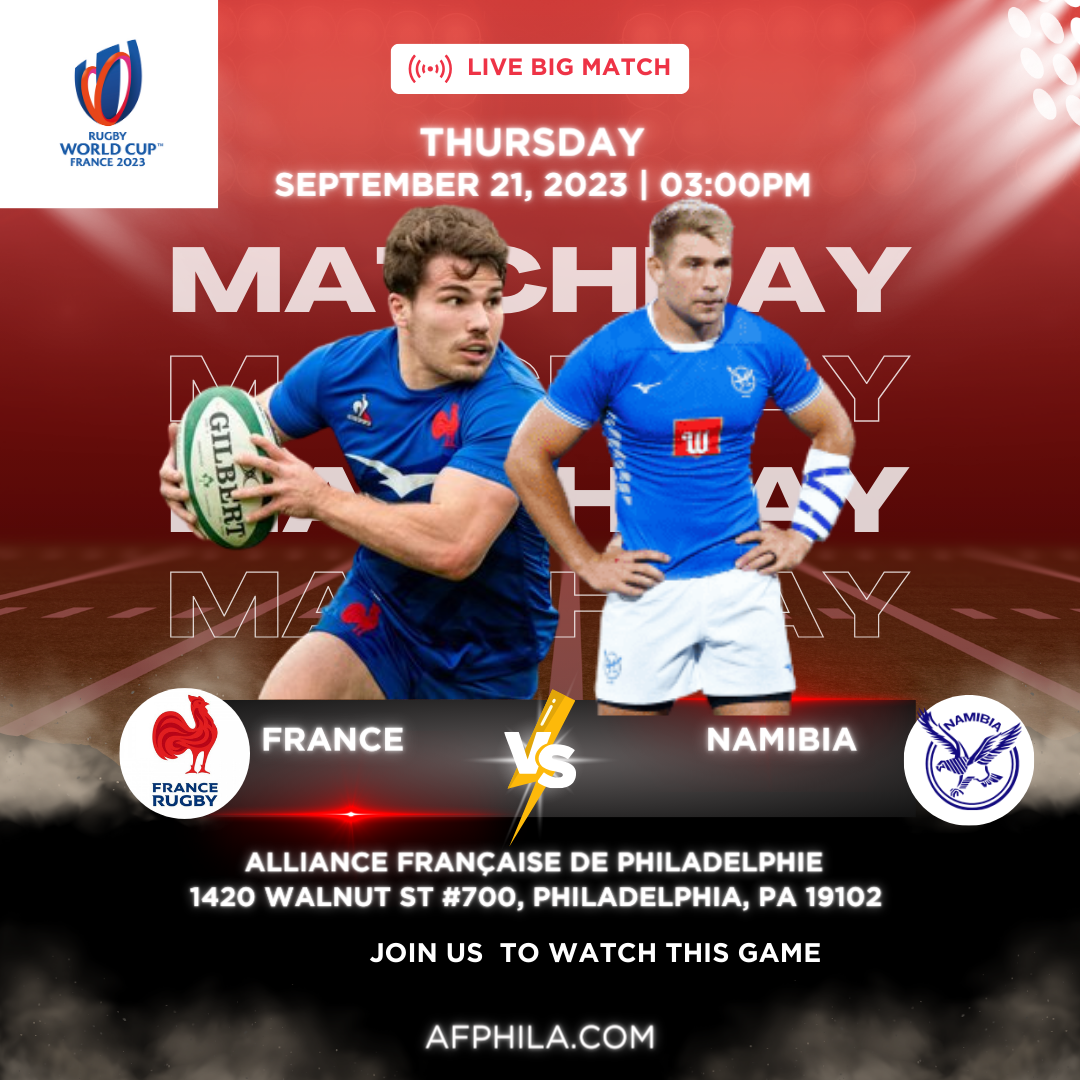 Support French Rugby Team

The 2023 Rugby World Cup (French: Coupe du monde de rugby 2023), is the ongoing tenth men's Rugby World Cup, the quadrennial world championship for rugby union national teams. It is taking place in France from 8 September to 28 October 2023 in nine venues across the country and is the first to take place entirely in France. The opening game and final will take place at the Stade de France, north of Paris. The tournament is being held in the bicentenary year of the "invention" of the sport by William Webb Ellis.
Thursday, September 21, France ("QUINZE DE FRANCE") vs Namibia
*** WHAT YOU NEED TO KNOW ***
Date : Thursday, September 21
Time: 2:45 pm, kick-off time at 3:00pm
Duration: Game : two 40-minutes halves + 20-min break
Place : Center City Location - 1420 Walnut Street - Suite 700 - Philadelphia
Group Size: 25 maximum
Language : The game will be commented in English.
Fee: The event is free (if you choose not to take any drink or food options), but if you want to support our organization and projects, you can donate from the donation form below
Registration: at least 48 hours prior to the event (depending on the number of places left)
*** RUGBY IN A NUTSHELL ***
Rugby is based on running with an oval-shaped ball in hand but...you can also kick it! In its most common form, a match is played between two teams of 15 players each on a rectangular field called a pitch. The field is equipped with H-shaped goal posts and a goal line at each end. The aim is to get the ball between these posts or to flatten it behind the line. Two of the bests known features of rugby are the tackle, used by the defence to prevent the opposition from advancing and the scrum, a method of restarting play that involves players packing closely together with their heads down and attempting to gain possession of the ball.
*** HEALTH AND SAFETY ***

We would like to remind you the following in-person events' étiquette :
Covid proof of vaccination required
.
*** DONATION FORM *** Please note that we encourage donations but you can also attend this event for free.
Make a Donation.
We need your support.
The average donation amount is:
$10
Image: /media/marketing_events/539/matchday-france-namibie-(1).png
Sorry, you've missed the RSVP deadline for this event.