When

Wednesday March 22, 2023 05:30 pm - 08:00 pm

Location

FRIEDA 320 Walnut St, Philadelphia, PA 19106
Movie and dinner at Frieda: Visages, Villages (Faces, Places)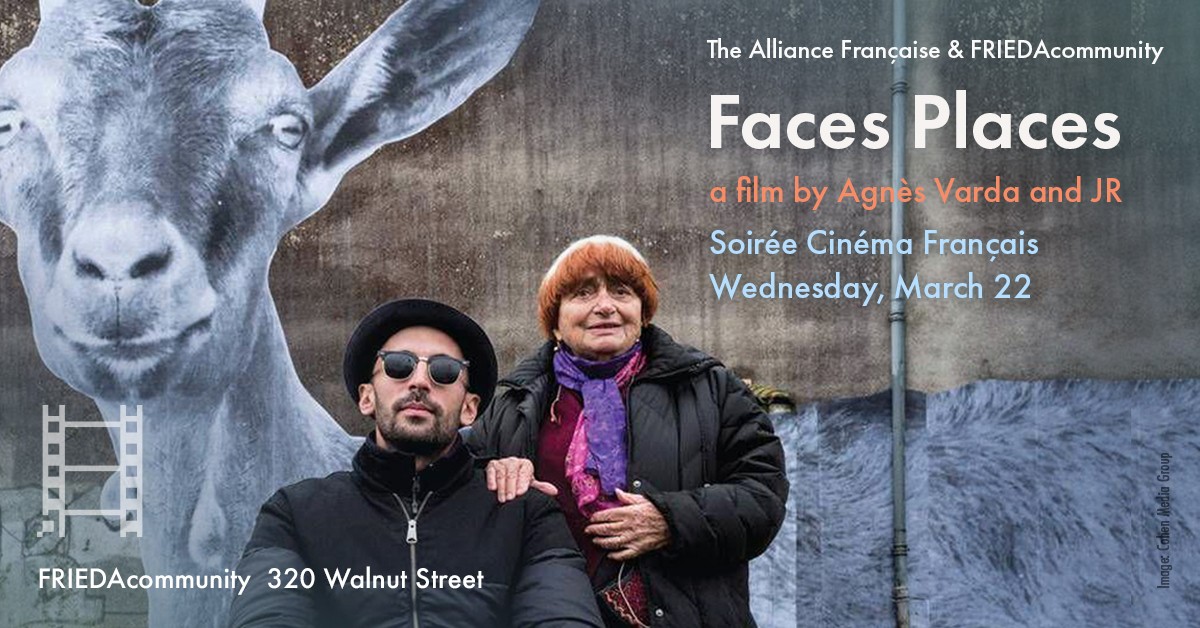 FRIEDAcommunity & The Alliance Française -
French Movie Night & Dinner - Faces Places - March 22
[Movie in French with English Subtitles]
Please click here to Sign up

Agnès Varda and JR have similarities: passion and questioning on images in general, and more precisely on places and devices used to show them, share them and exhibit them.
Agnès chose cinema. JR chose to create outdoor pastings.
When Agnès and JR met in 2015, they immediately wanted to work together, to shoot a movie in France, far from cities, travelling with JR's (magical) photo truck. Wether it was random encounters or prepared, they opened up to other people, listened to them, photographed them, and sometime pasted them.
The movie also tells the story of their friendship, which grew along the shooting, between surprises and teasing, laughing at their differences.

Faces Places
Genre: Documentary
Release date: 2017
Director: Agnès Varda, JR
Language: English; French / English subtitles
Running time: 1h 29m

The Alliance Française & FRIEDAcommunity
Soirée Cinéma Français (French Movie Night)
* * *
Menu
* * *
Vegetables and lentils stuffed peppers, tomato coulis
FRIEDA house salad with Dijon white balsamic
* * *
Dessert: Chocolate espresso cake
* * *
This event is BYOB

Date: Wednesday, March 22, 2023
5:30 pm – Pre-film dinner
6:30 pm – Film screening
Format: at FRIEDA, 320 Walnut Street
Group Size: 25-35 ppl
Fee:
FRIEDAcommunity Member + The Alliance Française Price: $20 per person (plus tax)
Guest Price: $30 per person (plus tax)
Covid proof of vaccination required
Mask recommended during this event

*Cancellation policy: Should you need to cancel, you will be refunded only if a replacement is found. You will be charged a $10 administration fee per person to process the refund. FRIEDA may cancel this event for any reason, including a statewide or federal mandate. In this case, you will received a full refund within 2 business days.


Please sign up by responding at least 2 days prior to the event.

Please click here to Sign up
After signing-up, you will receive an electronic invoice, and only once this invoice is paid, your participation is confirmed.
Image: /media/marketing_events/452/FRIEDAcommunity_FrenchMovie_FacesPlaces.jpg Youtube: https://www.youtube.com/watch?v=dmHG5HXYc9w Cinema Image: /media/marketing_events/452/vardajr.jpeg
Sorry, you've missed the RSVP deadline for this event.