When

Tuesday December 06, 2022 06:00 pm - 08:00 pm

Location

"Delice et chocolat" 9 E Lancaster Ave Ardmore PA 19003

Spaces left

9
Wine club at délice et chocolat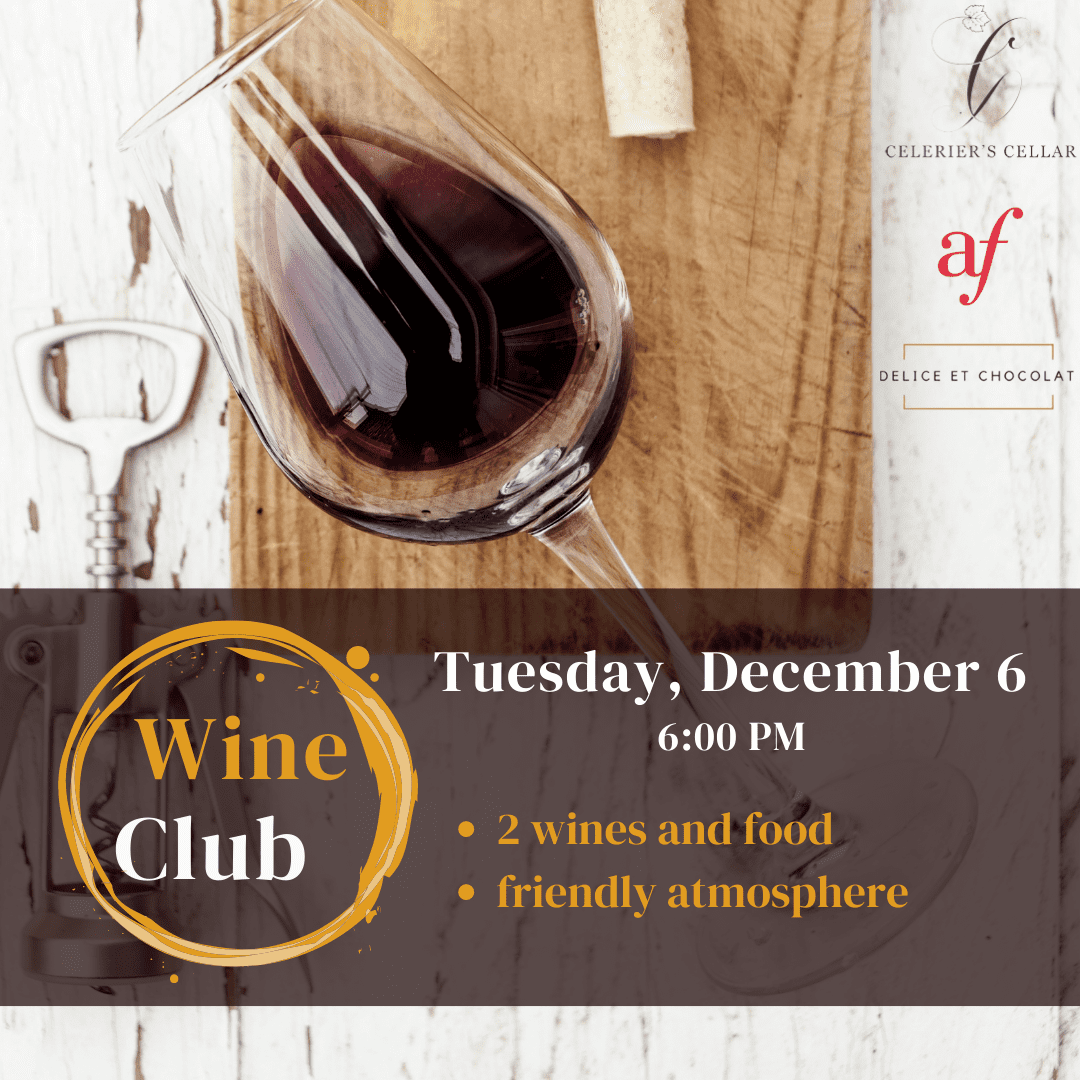 Join the Alliance and discover two wines while tasting delicious food from Délice et Chocolat. Enjoy a relaxed atmosphere and speak French if you can, or English if you prefer!

The wine club events are in collaboration with Celerier's cellar.
Enjoy a $20 discount on a purchase of $100 and more with the code AFPHILLY used at checkout
*** WHAT YOU NEED TO KNOW ***
Frequency: Every 6 weeks
Time: on Tuesdays from 6 pm
Location: at Délice et Chocolat 9 E Lancaster Ave Ardmore PA 19003
Language: English and French
Fee: $30 for non members $25 for Alliance Française de Philadelphie members
*** EVENT INCLUDES ***
2 glasses of French wine

Espresso cup of potato leek soup
Root vegetable slaw with its vinaigrette
Gougère filled with Boursin mousse and smoked salmon
Mini tarte of Roquefort cheese with pear hazelnuts and honey
Mini vol au vent with chicken mushroom and green olives sauce Normande
Mini lemon tarte with Italian meringue
*** NEXT SESSION ***
Tuesday, January 17
Image: /media/marketing_events/395/Wine-Club-(1).png
Sorry, you've missed the RSVP deadline for this event.