When

Monday June 19, 2023 11:30 am - 01:00 pm

Location

Zoom

Spaces left

-1
Club de lecture en ligne - Juin 2023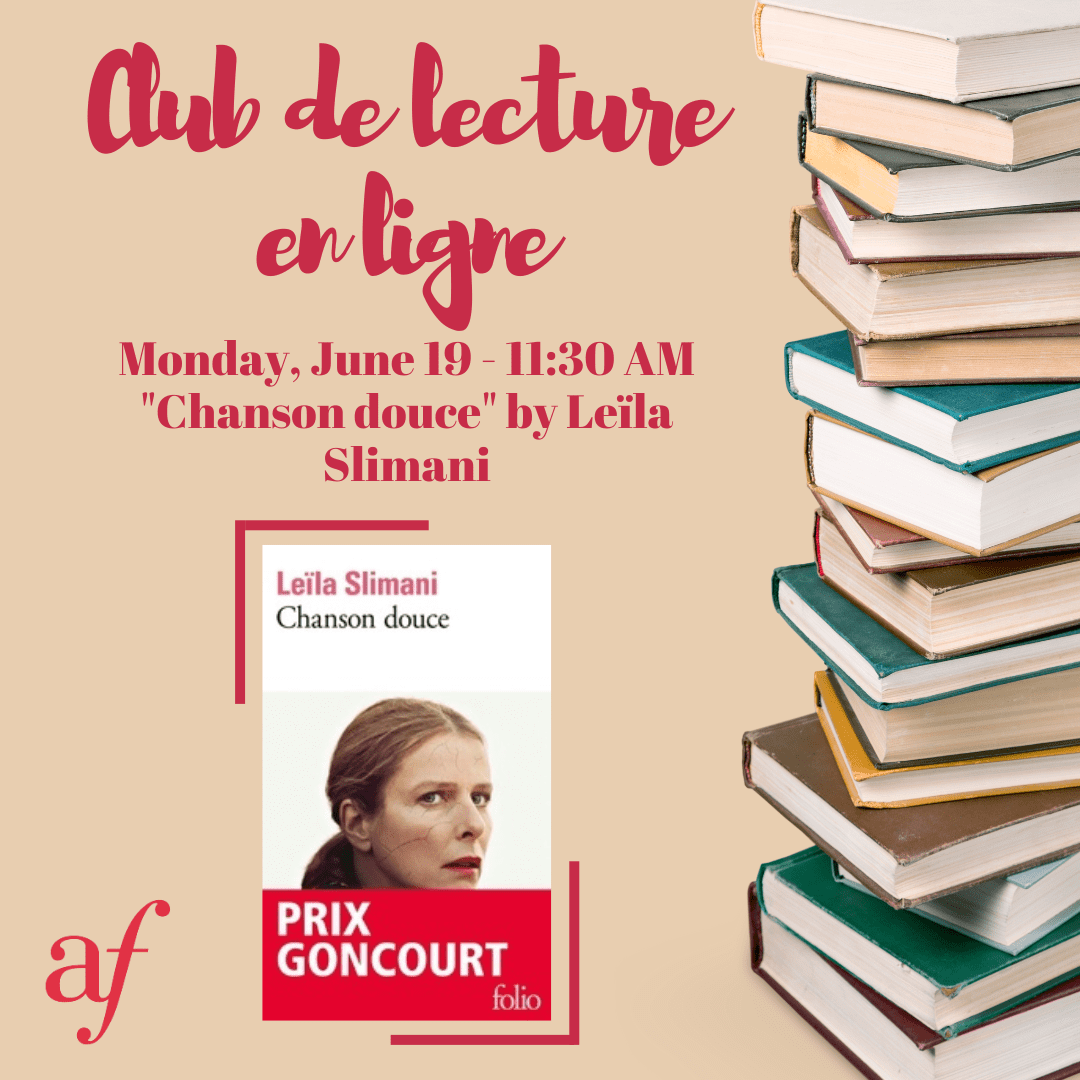 LE CLUB DE LECTURE EN LIGNE
Join Françoise Zanchetta on Zoom to talk about Francophone Literature


The Alliance is resuming its book club online,
from November 2022 to June 2023!

Join the Club de Lecture to discuss the book of the month priorly read by all the attendees. Exchange about your emotions, opinions with the other members and get the opportunity to expand your literary culture and to improve your French!

*** BOOK OF THE MONTH ***

Chanson douce de Leïla Slimani (226 pages)

Lorsque Myriam, mère de deux jeunes enfants, décide malgré les réticences de son mari de reprendre son activité au sein d'un cabinet d'avocats, le couple se met à la recherche d'une nounou. Après un casting sévère, ils engagent Louise, qui conquiert très vite l'affection des enfants et occupe progressivement une place centrale dans le foyer. Peu à peu le piège de la dépendance mutuelle va se refermer, jusqu'au drame.
À travers la description précise du jeune couple et celle du personnage fascinant et mystérieux de la nounou, c'est notre époque qui se révèle, avec sa conception de l'amour et de l'éducation, des rapports de domination et d'argent, des préjugés de classe ou de culture.
Le style sec et tranchant de Leïla Slimani, où percent des éclats de poésie ténébreuse, instaure dès les premières pages un suspense envoûtant.

You can purchase the book here.

*** WHAT YOU NEED TO KNOW ***

Day: Monday, June 19th, 2023
Time: 11:30 am
Duration: 1-1.5 hours
Location: Zoom Group Size: 8 maximum
Language requirements: B2 level minimum - French speaking course
Members: $10.00 | Non members: $15.00

*** REGISTRATION - HOW DOES IT WORK ? ***

You need to register for the session at least 48h before the meeting.

*** NOT A MEMBER YET? ***

Create your membership and join the AF members team !
Image: /media/marketing_events/394/Book-club-(12).png
Sorry, you've missed the RSVP deadline for this event.