When

Thursday May 26, 2022 06:30 pm - 09:30 pm

Location

1420 WALNUT ST
Le ciné de l'Alliance: Mystère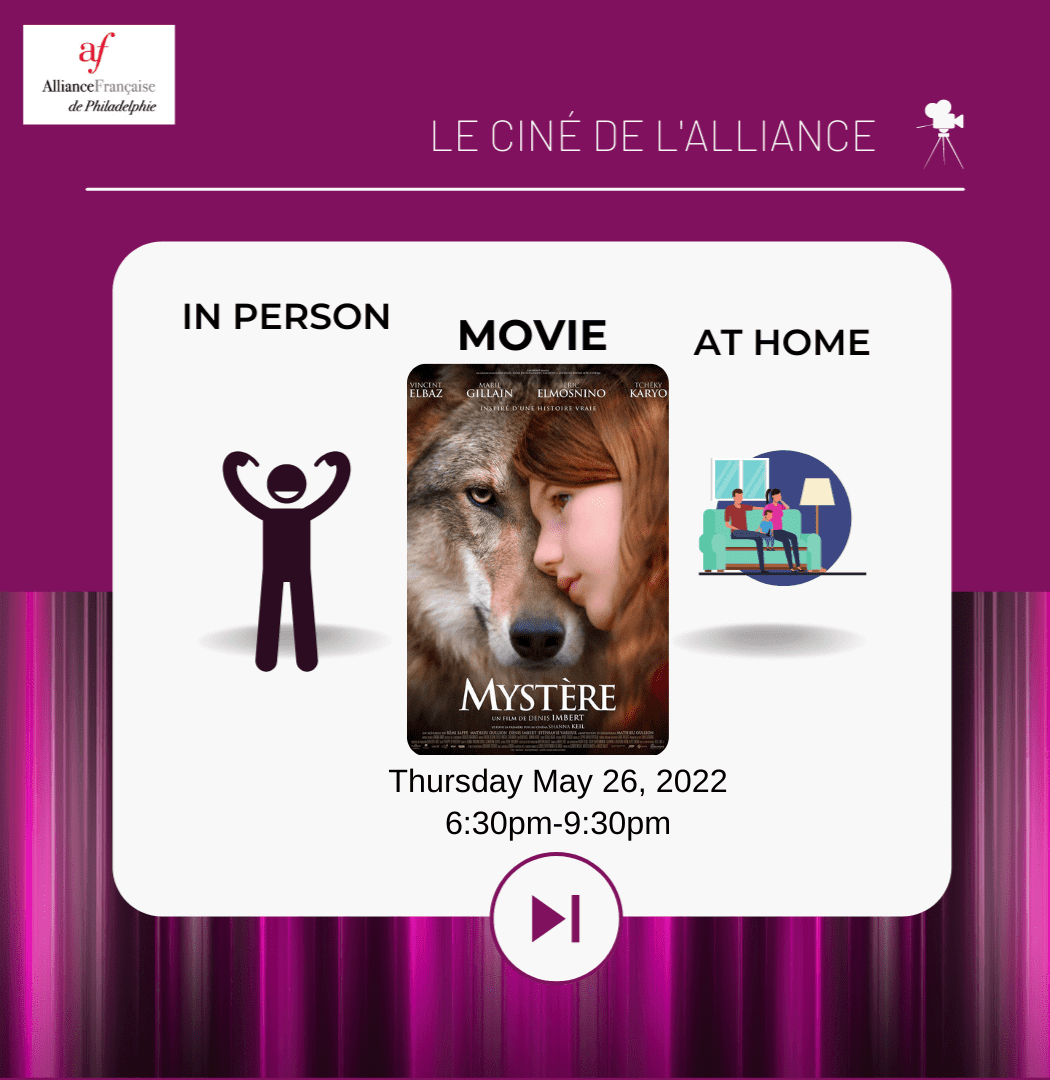 L'Alliance fait son cinéma !
Join us one Thurday a month to watch a French-Speaking movie with us ! You will then have the occasion to discuss the movie and the subjects related with the volunteers. .
* * * MAY SCREENING - Mystère * * * Adventure film


Stéphane decides to move to the beautiful mountains of Cantal to reconnect with his 8-year-old daughter, Victoria, who has been mute since her mother disappeared. During a walk in the forest, a shepherd entrusts Victoria with a puppy named "Mystère" who will gradually give her a taste for life. But Stéphane soon discovers that the animal is actually a wolf... Despite the warnings and the danger of this situation, he cannot bring himself to separate his daughter from this seemingly harmless ball of fur.
Stéphane décide d'emménager dans les belles montagnes du Cantal afin de renouer avec sa fille de 8 ans, Victoria, mutique depuis la disparition de sa maman. Lors d'une promenade en forêt, un berger confie à Victoria un chiot nommé « Mystère » qui va petit-à-petit lui redonner goût à la vie. Mais très vite, Stéphane découvre que l'animal est en réalité un loup… Malgré les mises en garde et le danger de cette situation, il ne peut se résoudre à séparer sa fille de cette boule de poils d'apparence inoffensive.
Themes: French region, Children, Animals, Ecology
* * * WHAT YOU NEED TO KNOW * * *
Date : Thursday, May 26
Time: 6:30 pm
Duration: 1h30 of screening + discussion time for the volunteers
Language : The movie will be in French with English subtitles. Discussion time will be both in French and English depending on what each person is most comfortable with ! We encourage exchanges of any kind.
Fee: Donation-based event : you can pay what you want ! Scroll down for Donation form. You can enter any amount ($0 to $1,000,000 !)
Registration: at least 48 hours prior to the event (depending on the number of places left)
* * * HYBRID EVENT : HOW DOES IT WORK ? * * *
You can either attend in-person at the AF Center City Location or ONLINE through a zoom link we will be providing. Our hybrid installation allow all participants to join the discussion, whether they choose to attend online or in-person.
IMPORTANT :
We will limit the in-person group size to 20
Please indicate your choice of attendance in the Donation form below. (If you do not wish to make a donation, you can enter the 0 value. You will receive a $0 dollar invoice as an administrative formality.)
Make a Donation.
We need your support.
The average donation amount is:
$10
Image: /media/marketing_events/319/Thursday-May-2022-630pm-930pm-(1).png
Have an Account? Click here to Login



Please indicate your intention to attend this event below: