Start

Wednesday January 26, 2022 11:00 am

End

Thursday January 27, 2022 12:30 pm

Location

915 Spring Garden St., Philadelphia PA 19123

Spaces left

0
POSTPONED: ART STUDIO VISIT - Meet William Kosman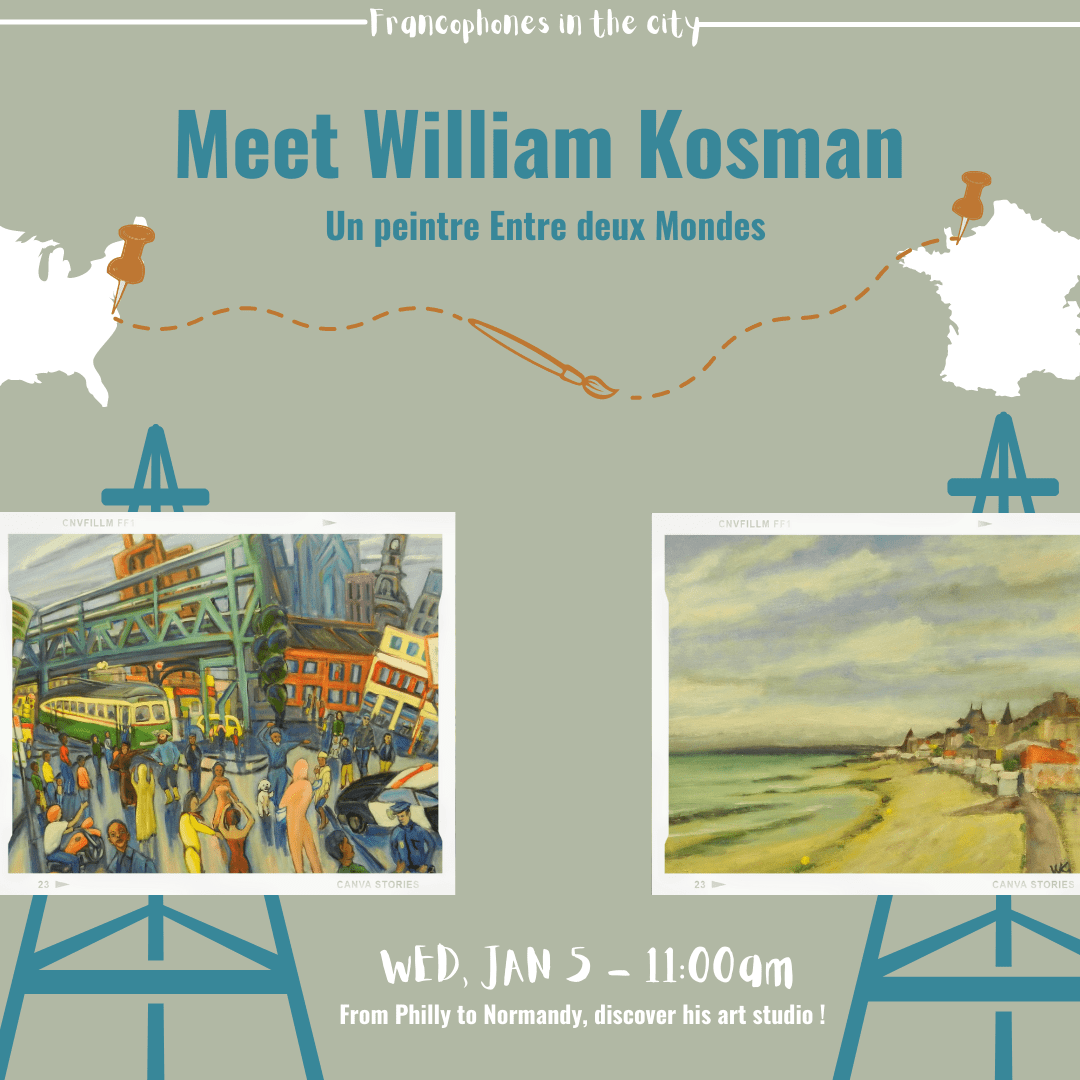 VISIT WILLIAM KOSMAN'S ART STUDIO !
EVENT POSTPONED - MORE INFORMATION COMING SOON
With our Francophones in the city events, discover the richness of the Francophone world through the francophone people of Philadelphia, their culture, their world and their path.
Join us on Wednesday January 5 to visit William Kosman's art studio and watch him performing his art live ! You will get the chance to exchange with him about his artistic process, his influences and his multicultural artistic world. Indeed, from the paintings of the bustling streets of Philadelphia to the ones of the beaches of Normandy, William Kosman's studio is a fascinating evidence of his French-American path. Born in California, his professional career as a journalist and corporate marketing executive in Europe and his marriage with a French native speaker led him to share his heart between France and the United States... and to become a perfect French speaker! Kosman paints city scenes and portraits to show the courage and beauty of people as they confront life and during the summer, he paints landscapes of the villages, fields and beaches of Normandy, France, in his quest to capture the beauty of nature.


*** WHAT YOU NEED TO KNOW ***
Date : Wednesday January 5
Time: 11:00 am
Duration: 1h15 approximately
Place : 915 Spring Garden St., Philadelphia PA 19123
Group Size: 15 maximum
Language : The studio tour will preferably be in French. Discussion time will be both in French and English depending on what each person is most comfortable with ! We encourage exchanges of any kind.
Fee: Donation-based event : you can pay what you want ! Scroll down for Donation form. You can enter any amount ($0 to $1,000,000 !)
Registration: at least 48 hours prior to the event (depending on the number of places left).


*** ABOUT THE ARTIST ***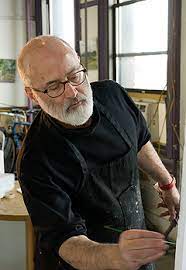 William Kosman in his own words :
« Painting and sketching have been my passion and refuge for most of my life. My love of the arts was awakened early in life. As a child, my family's home was filled with art and music, and I studied violin and the arts in private and group classes. During my professional career on the East and West coasts and in Europe, I always found time to study painting in evening classes and summer workshops, and I've been sketching and painting landscapes on the coast in Normandy, France, for years. I've also had a passion for writing fiction and I self-published my novel The Picasso Paradigm. Now, with my professional career as a painter, I've gained true pleasure – and shared it with viewers – with my landscapes, city scenes, narrative painting, portraits representing people and their emotions. »
Kosman has exhibited in several Philadelphia venues, including the Show of Hands gallery, the Woodmere Art Museum, the former ArtWorks at the Philadelphia Museum of Art, the Philadelphia Sketch Club and the Old City Jewish Art Center. His works grace the homes of families on the East and West coasts of the United States and in France. Among many courses and workshops, Kosman studied at the Art Students' League in New York, the Fleisher Art Memorial in Philadelphia, where he received among other awards the coveted Fred and Naomi Hazell Award for both 2006 and 2007, and with Jean-Marie Creuseau, in Fresnes, France.
Kosman's work can be viewed at :
• www.williamkosman.blogspot.com
• www.williamkosman.com


* * * HEALTH &

SAFETY

* * *

We would like to remind you the following in-person events' étiquette :
Covid proof of vaccination required
Mask required during this event
*** DONATION FORM ***
Please note that we encourage donations but you can also attend this event for free.
Make a Donation.
We need your support.
The

average

d

onation

a

mount

is:
$10-$20
Image: /media/marketing_events/249/Bill-Kosman-3.png
Sorry, this event is exceeding its capacity.