When

Wednesday December 08, 2021 06:30 pm - 09:30 pm

Location

Alliance Francaise de Philadelphie

Spaces left

11
Le Ciné de l'Alliance - DECEMBER Session #1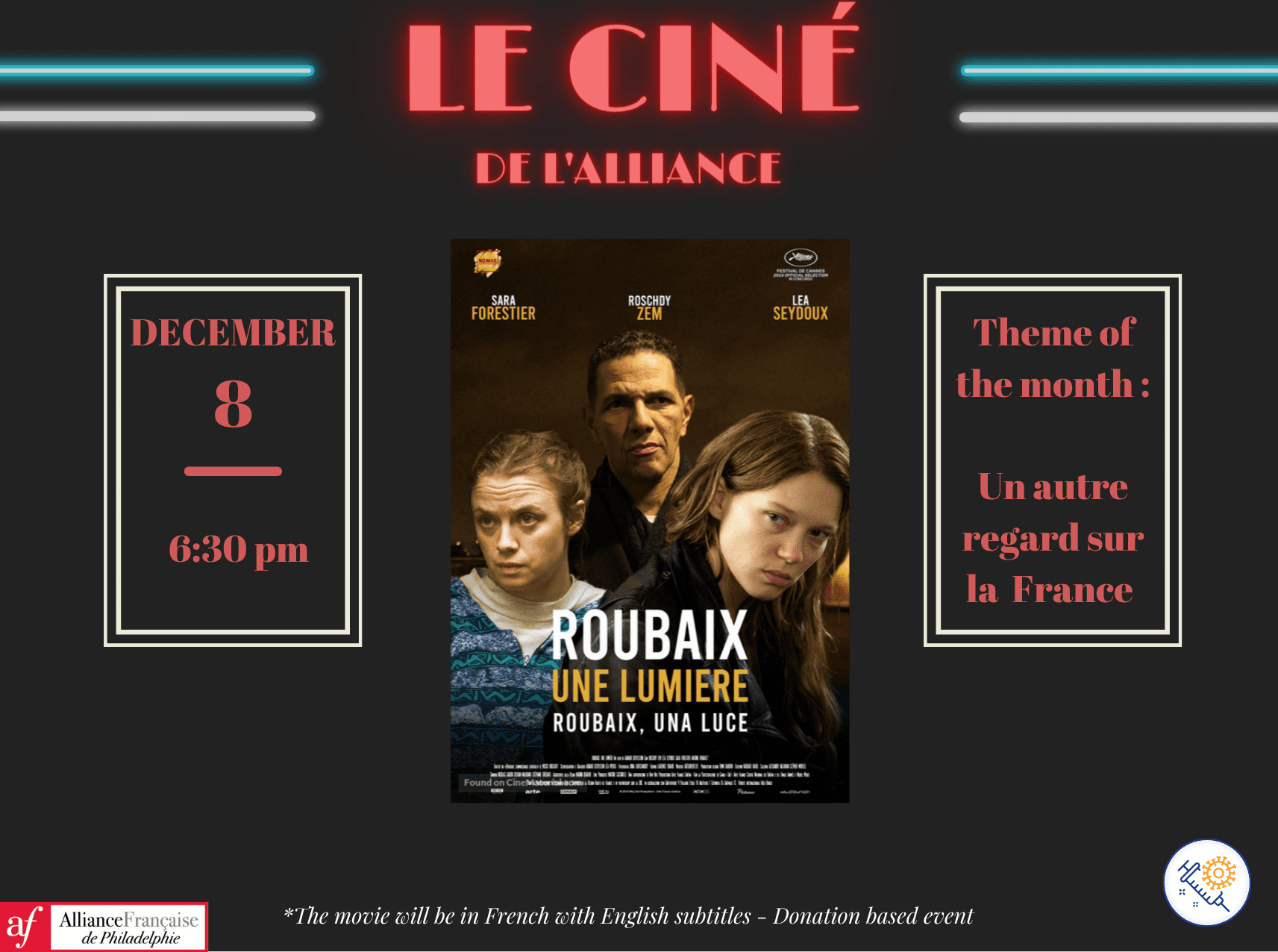 L'Alliance fait son cinéma !
Join us every other Wednesday to watch a French-Speaking movie with us ! You will then have the occasion to discuss the movie and the subjects related with the volunteers.
.


* * * DECEMBER SCREENINGS - UN AUTRE REGARD SUR LA FRANCE * * *

WEDNESDAY DECEMBER 8 : Roubaix, une lumière d'Arnaud Desplechin
Avec Roschdy Zem, Léa Seydoux et Sara Forestier.


WEDNESDAY DECEMBER 22 : Au nom de la terre, d'Edouard Bergeon
Avec Guillaume canet.
December's two movies will give us Un autre Regard sur la France (Another View of France)...
Paris est un lieu commun du cinéma français et international, autant que le sont la côte d'Azur, ses villas et ses stations balnéaires luxueuses. Pourtant, il existe aussi une France qui fait moins rêver, celle des régions agricoles ou industrielles, qui connaissent des difficultés sociales réelles. Au nom de la Terre et Roubaix, une lumière en saisissent chacun à leur manière les troubles et les complexités. Le premier retrace la saga familiale tourmentée d'agriculteurs de Mayenne, et le second constitue une enquête policière à la veille de Noël dans une des villes les plus pauvres de France.
Paris is a commonplace of French and international cinema, as much as the French Riviera, its villas and luxurious beach resorts are. However, there is also a France that is less dreamy, that of agricultural and industrial areas, which are experiencing real social difficulties. Au nom de la Terre and Roubaix, une lumière each capture in their own way the troubles and complexities. The first traces the tormented family saga of farmers in Mayenne and the second is a police investigation on Christmas Eve in one of the poorest cities in France.


WATCH ROUBAIX UNE LUMIERE TRAILER WATCH ROUBAIX UNE LUMIERE TRAILER

* * * WHAT YOU NEED TO KNOW * * *
Date : Wednesday December 8
Time: 6:30 pm
Duration: 2 hours of screening + Discussion Time (1 hour approximately)
Place : Center City Location - 1420 Walnut Street - Suite 700 - Philadelphia
Group Size: 20 maximum
Language : The movie will be in French with English subtitles. Discussion time will be both in French and English depending on what each person is most comfortable with ! We encourage exchanges of any kind.
Fee: Donation-based event : you can pay what you want ! Scroll down for Donation form. You can enter any amount ($0 to $1,000,000)
Registration: at least 48 hours prior to the event (depending on the number of places left)
* * * HEALTH & SAFETY * * *

We would like to remind you the following in-person events' étiquette :
Covid proof of vaccination required

Mask required during this event
* * * NEXT SESSIONS * * *


JANUARY : Adolescence(s)

JANUARY 5 : La vie scolaire de Grand Corps Malade et Mehdi Idir
Image: /media/marketing_events/245/Le-ciné-de-l'Alliance-4.png
Sorry, you've missed the RSVP deadline for this event.