Home
›
Products
›
Af-parlons-histoire-marie-madeleine-fourcade
Parlons Histoire: Marie Madeleine Fourcade
Description:
Les Grandes Figures féminines de la Résistance
The French Resistance is too often described in masculine terms. However, women played an important and neglected role. This new cycle of Parlons Histoire entitled "Les grandes figures féminines de la Résistance", pays tribute to these unsung heroines. Aubrac, De Gaulle-Anthonioz, Albrecht, Tillion and Fourcade are among them! Each month, we invite you to discover the exciting and tragic lives of these Braves among the Brave, who command respect and admiration...
Née à Marseille en 1909, Marie-Madeleine Fourcade est issue d'une vieille famille coloniale. Elle vit en Extrême-Orient jusqu'à l'âge de 10 ans. De retour en France elle passe son adolescence dans un pensionnat prestigieux, avant de résider pendant 5 ans au Maroc.
Après la défaite française de 1940, elle constitue avec le nationaliste Georges Loustanau-Lacau le réseau de résistance "Alliance", dont elle devient la dirigeante en 1941. Elle est alors à la tête de 1500 hommes et femmes. Sa mission consiste principalement à collecter puis transmettre des informations stratégiques aux services de renseignements britanniques.
Interpelée en 1942, elle parvient à être libérée grâce à la complicité d'un commissaire de police. Mais après l'arrestation de Jean Moulin en 43, les Anglais la garde à Londres pour sa sécurité. Elle assiste sans pouvoir agir au démantèlement de son réseau "Alliance", infiltré par des agents doubles. Après la guerre, elle fonde une association pour venir en aide aux veuves du mouvement qui compte 483 morts.
En 1968 elle publie "L'Arche de Noë", un livre à succès qui retrace son parcours et rend hommage à ses anciens compagnons. Présidente du Comité d'Action de la Résistance dès 1962, elle préside en 1981 le jury d'honneur de Maurice Papon, homme politique français accusé d'actes de collaboration pendant la guerre. Elle sera également membre de la Ligue internationale contre le racisme et l'antisémitisme, avant de s'éteindre en 1989... Les honneurs militaires lui sont rendus aux Invalides : elle compte parmi les plus grandes Résistantes françaises de la Seconde Guerre Mondiale !
*** WHAT YOU NEED TO KNOW ***


Frequency : Monthly
Time : 6:00 pm
Duration : 1 hour
Location : Online (Zoom)
Language : French
Fee : $10 for non members / $8 for Alliance Française members
*** APRIL SESSION *** MARIE MADELEINE FOURCADE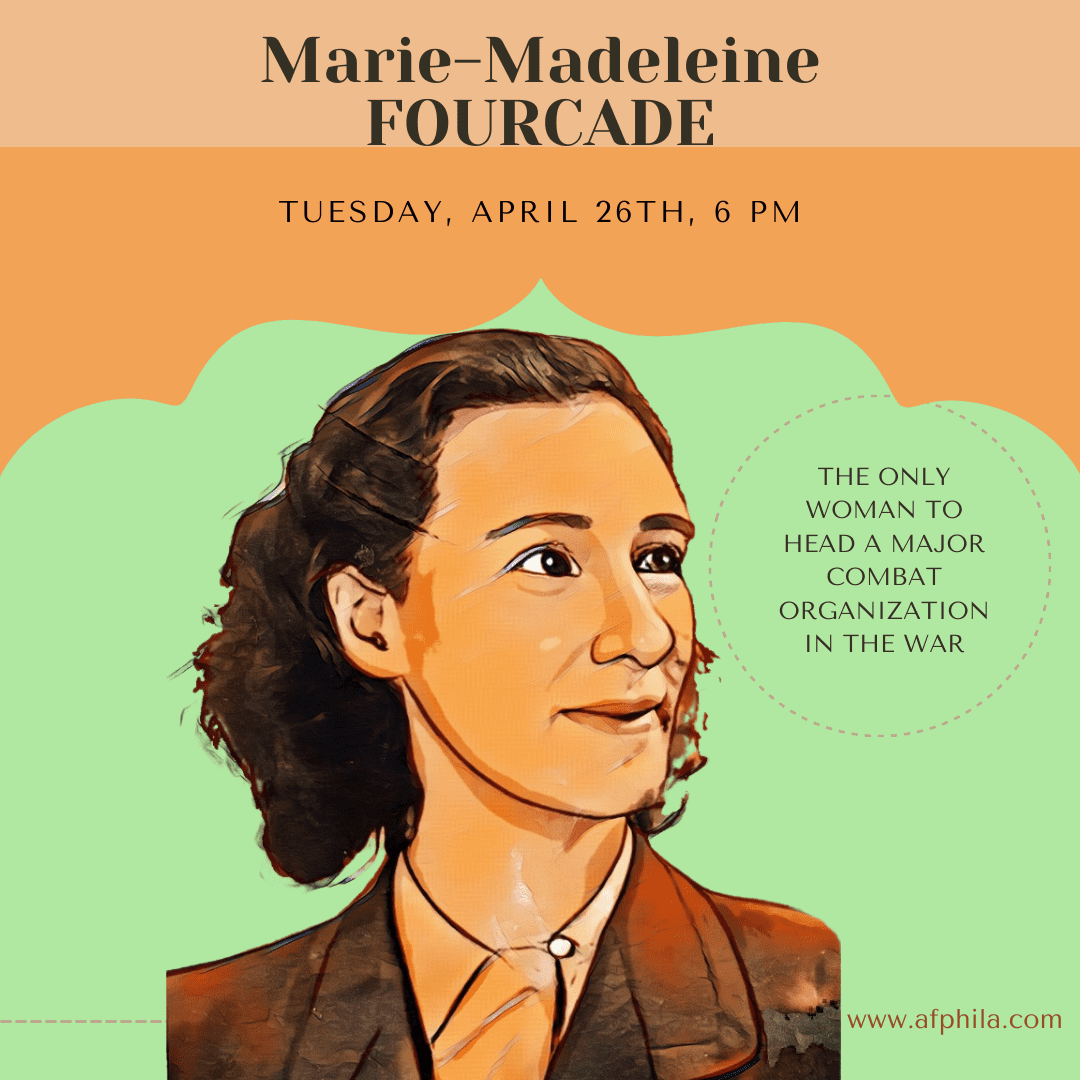 *** NEXT SESSIONS ***
APRIL 26 : Marie-Madeleine FOURCADE (1909-1989)
*** NOT A MEMBER YET ? ***

Create your membership and join the AF members team !