Home
›
Products
›
Af-parlons-histoire-les-femmes-de-la-rsistance-2
PARLONS HISTOIRE - Les femmes de la Résistance #2
Description:
Les Grandes Figures féminines de la Résistance
The French Resistance is too often described in masculine terms. However, women played an important and neglected role. This new cycle of Parlons Histoire entitled "Les grandes figures féminines de la Résistance", pays tribute to these unsung heroines. Aubrac, De Gaulle-Anthonioz, Albrecht, Tillion and Fourcade are among them! Each month, we invite you to discover the exciting and tragic lives of these Braves among the Brave, who command respect and admiration...


*** WHAT YOU NEED TO KNOW ***


Frequency : Monthly / Next session on December, 21
Time : 6:00 pm
Duration : 1 hour
Location : Online (Zoom)
Language : French
Fee : $10 for non members / $8 for Alliance Française members

*** DECEMBER SESSION ***
DECEMBER 21 : Geneviève DE GAULLE ANTHONIOZ (1910-2002)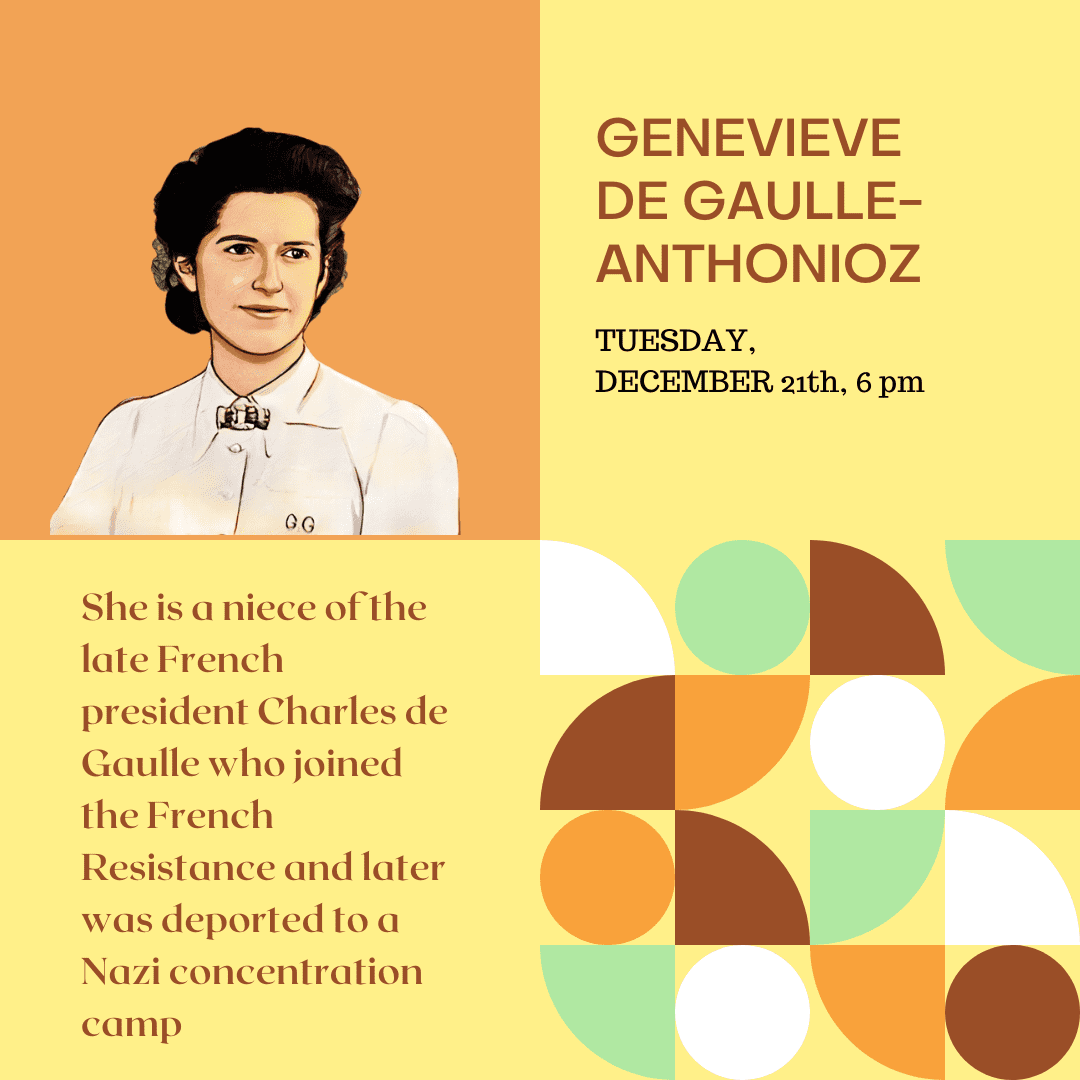 C'est en 1920 que naît Geneviève de Gaulle-Anthonioz, nièce du général Charles de Gaulle. Résistante de la première heure, elle s'engage dès juin 1940 contre l'envahisseur allemand et le gouvernement de Vichy. Membre du réseau « Défense de la France », elle participe à de nombreuses actions secrètes de renseignement. Arrêtée en juillet 1943 par la police française, elle est emprisonnée à Fresnes, puis déportée au camp de Ravensbrück en février 1944. Sur l'ordre d'Himmler, elle est gardée à l'isolement afin d'être utilisée comme monnaie d'échange. Elle est libérée en avril 1945.
Après la guerre, elle suit les procès des criminels nazis en tant que présidente de l'Association des Déportées et Internées de la Résistance. En 1947, elle participe à l'essor du mouvement politique souverainiste et anticommuniste, le Rassemblement Pour la France (RPF), créé par Charles de Gaulle. En 1958, elle travaille auprès d'André Malraux, ministre de l'Information et des Affaires culturelles. Elle s'implique aussi dans le mouvement ATD Quart Monde, et en devient la présidente de 1964 à 2001. Après une vie bien remplie, elle s'éteint à Paris en 2002, à l'âge de 81 ans...
Geneviève de Gaulle-Anthonioz, niece of General Charles de Gaulle, was born in 1920. An early Resistance fighter, she became involved in June 1940 against the German invaders and the Vichy government. As a member of the "Defense of France" network, she took part in numerous secret intelligence actions. Arrested in July 1943 by the French police, she was imprisoned in Fresnes, then deported to the Ravensbrück camp in February 1944. On Himmler's orders, she was kept in isolation in order to be used as a bargaining chip. She was liberated in April 1945.
After the war, she followed the trials of Nazi criminals as president of the Association of Deported and Interned Women of the Resistance. In 1947, she participated in the rise of the sovereignist and anti-communist political movement, the Rassemblement Pour la France (RPF), created by Charles de Gaulle. In 1958, she worked with André Malraux, Minister of Information and Cultural Affairs. She was also involved in the ATD Fourth World movement, and became its president from 1964 to 2001. After a full life, she died in Paris in 2002, at the age of 81...


*** NEXT SESSIONS ***


FEBRUARY 1st : Berty ALBRECHT (1893-1943)
MARCH 14 : Germaine TILLION (1907-2008)
APRIL 26 : Marie-Madeleine FOURCADE (1909-1989)


*** NOT A MEMBER YET ? ***

Create your membership and join the AF members team !