When

Wednesday October 21, 2020 06:00 pm - 07:00 pm

Location

Online
Rencontre autour du foie gras [IN ENGLISH]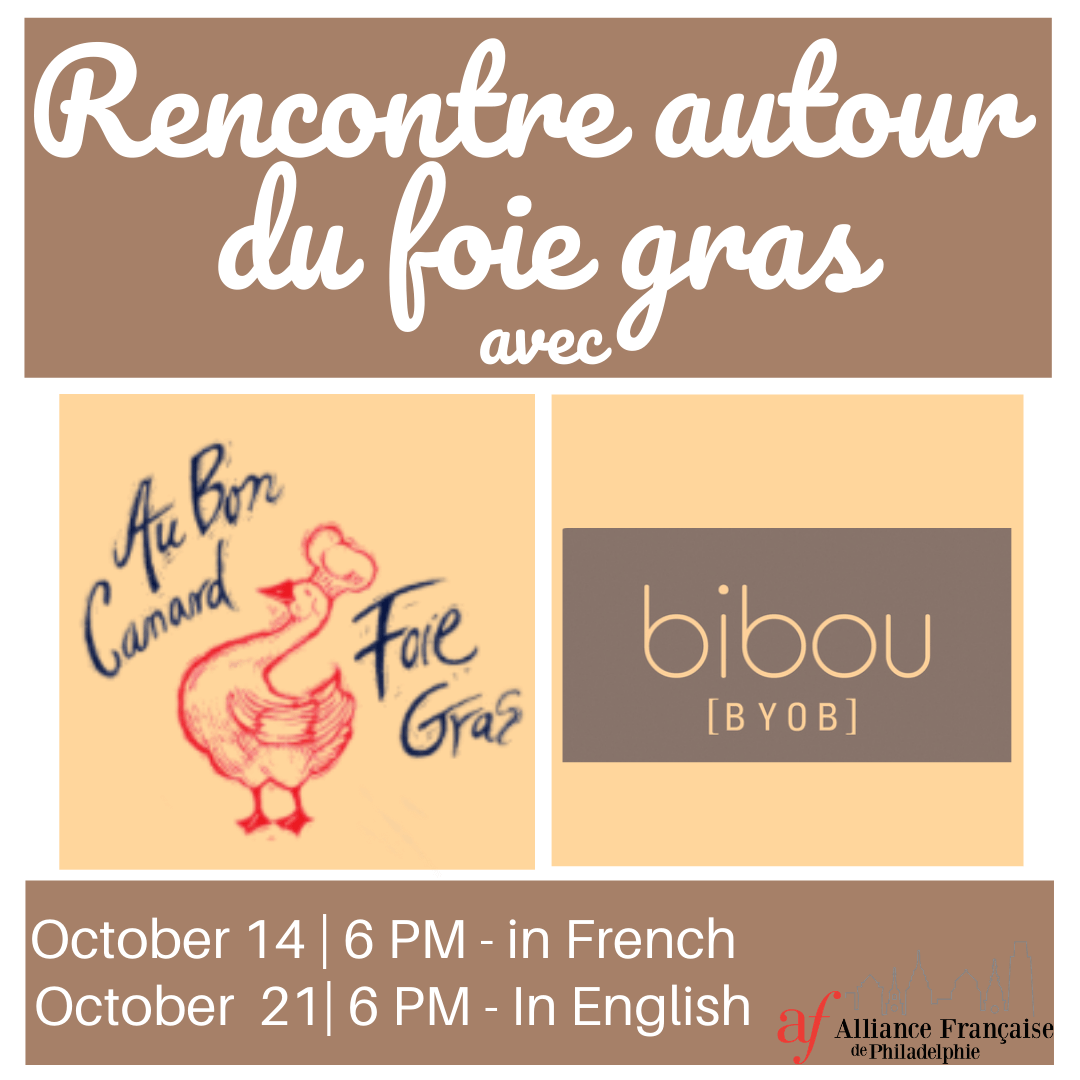 Join us online and meet Christian Gasset, owner of Au Bon Canard Foie Gras, a foie gras duck farm of Caledonia, MN.
Christian Gasset will present his farm and introduce us to his small flocks of pasture-raised ducks in the old French tradition.
Chef Pierre Calmels of Bibou, located in Philadelphia, will demonstrate how easy it is to prepare and serve pan seared foie gras. 



About Bibou
Pierre had just returned from New York working under Chef Daniel Boulud. A few years later the call came from Georges Perrier to join his team at the world-famous Le Bec Fin, bringing them to Philadelphia.After 8 years at Le Bec Fin, from Sous to Executive Chef, and their two daughters Julie and Jeanne, it was time for Charlotte and Pierre fly on their own. Charlotte paired her front of the house experience and wine knowledge from Brasserie Perrier and The Restaurant School, with Pierre's fine bistro cuisine, and a few months later, Bibou BYOB was packed every night!Bibou is located in the former Pif location on 8th street, and holds a special place in their personal history, as it was the location where they celebrated their nuptiuals. In 2012, along with the birth of their third daughter Eloise, they received their first of many 4-bell reviews from Inquirer food critic, Craig Laban.
Since the pandemic, Bibou has had to reinvent itself, and has now become Bibou Boutique !

About Au Bon Canard Foie Gras
For the past 16 years, family-owned and family-run company, Au Bon Canard, has provided discerning chefs in the Midwest with the best Foie Gras in the country. Now in the middle of a global pandemic, the doors to their restaurants are closed. Along with countless other businesses across the country, they must quickly adapt to a new reality. As a result, for the first time in the history of their small farm, they are opening sales of their Foie Gras to connoisseurs outside of our region, and beyond their traditional clients in the fine restaurant and food service industry, who share their love of this ancient French product and tradition. Despite this major change, however, one thing remains certain as they head into an uncertain future: Au Bon Canard is still committed to quality, not quantity.The small scale of their family operation allows them to produce high-quality Foie Gras and other duck delicacies, following traditional artisanal methods and a seasonal cycle, provide humane living conditions for their birds throughout their lives and respect their birds, their land, and their customers.

Image: /media/marketing_events/52/Au-Bon-Canard-event-ENGLISH.png
Sorry, you've missed the RSVP deadline for this event.