When

Tuesday June 28, 2022 06:00 pm - 09:00 pm

Location

1420 WALNUT ST
Alice Guy: First lady of film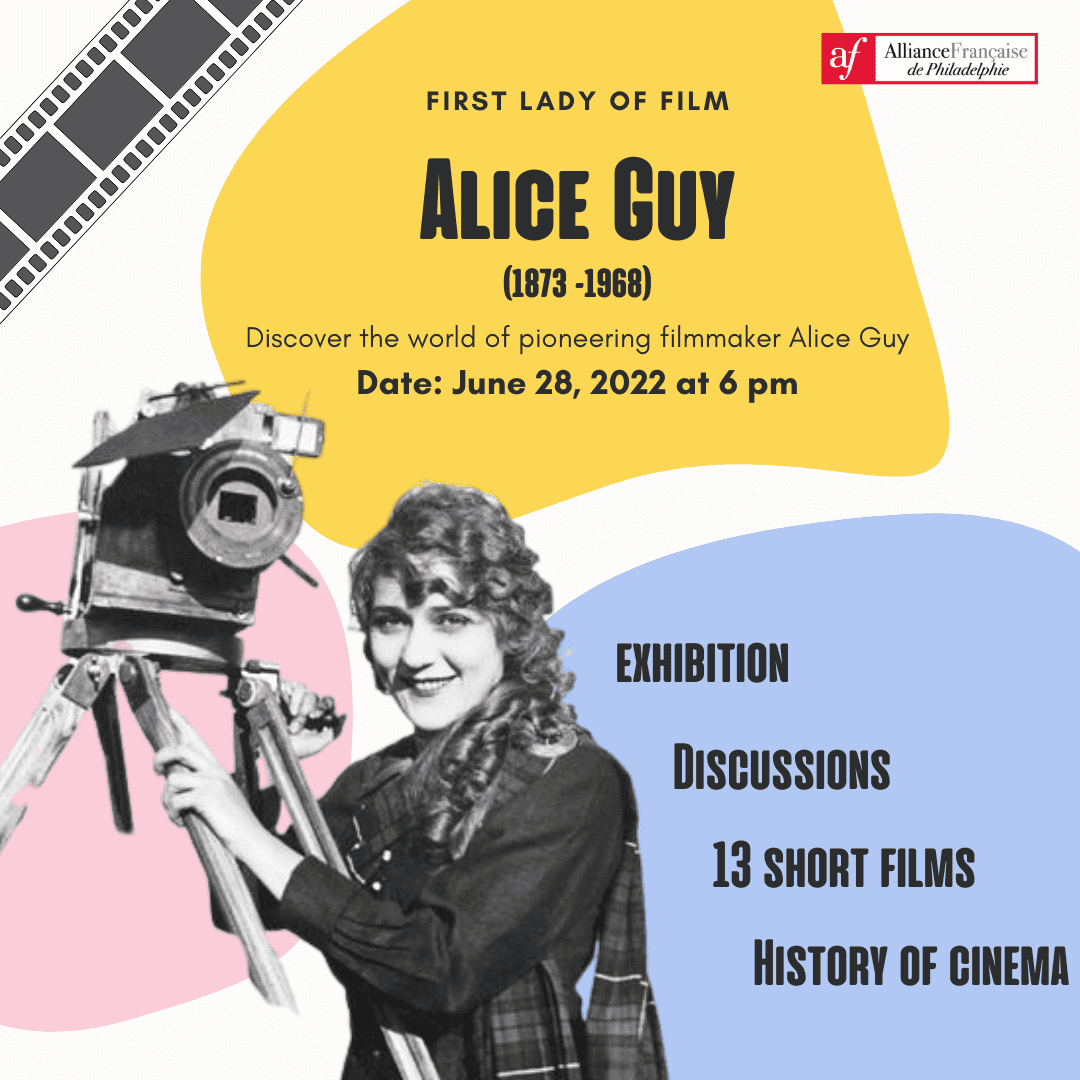 Evening in honor of Alice Guy

Join us on Tuesday, June 28 to participate in a special evening in honor of Alice Guy ! You will then have the occasion to discover the beginning of the history of cinema and participate in a special screening like at the "Grand Café" in Paris in 1900.

* * * ALICE GUY AND THE BEGINNING OF CINEMA * * *
Watch a program of 13 short films by Alice Guy made between 1898 and 1907. She is the first fiction filmmaker in the history of cinema. It was she who suggested to Léon Gaumont to abandon simple animated views to shoot small scripted stories. She was given the authorization to direct, which was an exceptional fact in a profession reserved for men. Until 1907, she reigned over Gaumont's production as director, artistic director and screenwriter. During that time, she also experimented with special effects.


Au programme:
Exposition sur les débuts du cinéma
Séance de cinéma comme en 1900 au Grand café de Paris
Discussions
Musiques
Et partage !
Discover an exhibition about the beginnings of cinema and its technologies, to understand the world of Alice Guy. Then take part in a film screening as in 1900 at the Grand Café de Paris with a program of 13 short films by Alice Guy. Finally, we will discuss the life of Alice Guy, and the cinema of the early twentieth century.


*** WHAT YOU NEED TO KNOW ***
Date: June 28, 2022
Time: Start of the exhibition 6:00 pm / Movie screening 6:30 pm
Duration: 2 hour
Location: Hybrid event
Language: French and Eglish. Discussion time will be both in French and English depending on what each person is most comfortable with ! We encourage exchanges of any kind.
Fee: Donation-based event : you can pay what you want ! Scroll down for Donation form. You can enter any amount ($0 to $1,000,000 !)
*** Un évènement présenté par Fanny***

A little about me: I am the new intern at the Alliance Française de Philadelphie. My name is Fanny, I am 25 years old and I am studying this year in Toulouse: La ville Rose.
After studying law and political science, I chose to be guided by my passion, art history! I had the chance to study for three years in the largest museum in the world: the Louvre. My school, L'Ecole du Louvre, was in the heart of the museum! I was able to learn art history from the beginning of human civilization to today, based on the beautiful artworks of the Parisian museums. Indeed, we didn't only have classes in the classroom, but also directly in all the museums of Paris.
And by the way, I didn't tell you about my other passion: cinema. I was also able to specialize in the History of Cinema at L'Ecole du Louvre. Indeed, the school is also named l'Ecole du regard (School of the gaze), and the cinema offers us a wonderful look at the world.
So join me on June 28 and discover the unique Alice Guy, during a special evening that will be dedicated to her on the occasion of her 149th birthday!

IMPORTANT :
We will limit the in-person group size to 20
Please indicate your choice of attendance in the Donation form below. (If you do not wish to make a donation, you can enter the 0 value. You will receive a $0 dollar invoice as an administrative formality.)
Make a Donation.
We need your support.
The average donation amount is:
$10
Image: /media/marketing_events/323/Movie-(Instagram-Post)-(1).png
Sorry, you've missed the RSVP deadline for this event.