When

Wednesday October 27, 2021 06:30 pm - 09:30 pm

Location

Alliance Francaise de Philadelphie

Spaces left

12
Le Ciné de l'Alliance - OCTOBER SESSION #2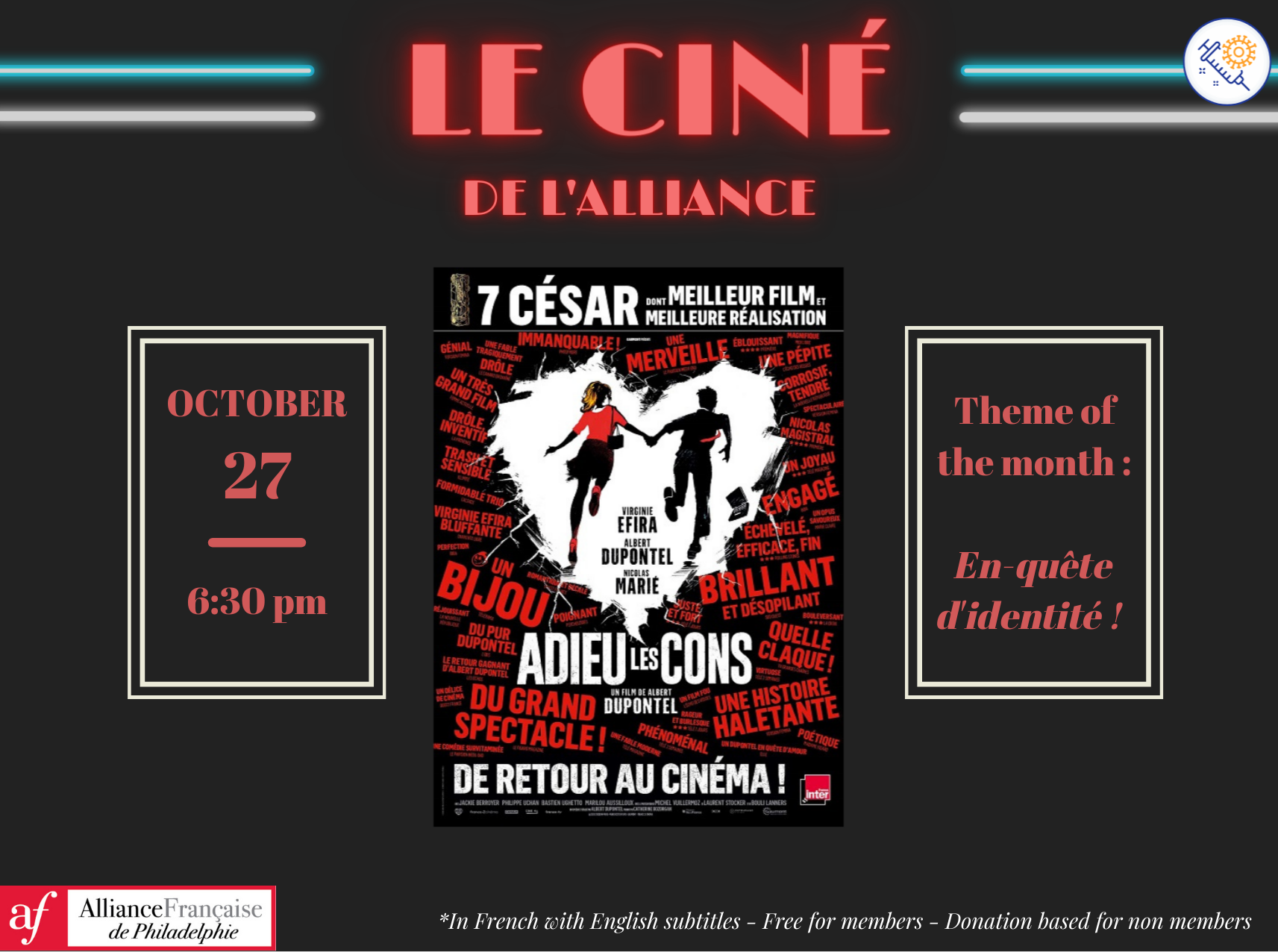 L'Alliance fait son cinéma !
Join us every other Wednesday to watch a French-Speaking movie with us ! You will then have the occasion to discuss the movie and the subjects related with the volunteers !


* * * OCTOBER SECOND SESSION * * *

OCTOBER 27 : Adieu les cons d'Albert Dupontel

We keep exploring October thematic En-quête d'identité ! / In quest of Identit with the award-winning movie Adieu les Cons...

Nos vies sont jalonnées de quêtes : quête de soi, de son identité, quête de son passé... Ces recherches sont faites de rencontres, plus ou moins romanesques, et sont, quelque soit leur nature, de véritables aventures, qui trouvent parfois leurs dimensions sur grand écran. Les deux films d'Octobre explorent avec beaucoup d'humour le thème de la quête à travers la notion de famille. Après avoir questionné la thématique de l'identité et de la sexualité lors de la première session avec Les garçons et Guillaume, à table !, Adieu les cons vous embarquera avec des personnages loufoques et défaits par la vie dans une enquête rocambolesque pour retrouver un enfant né sous X.
Our lives are punctuated by quests: the quest for oneself, for one's identity, the quest for one's past... These searches are made of encounters, more or less novelistic, and are, whatever their nature, real adventures, which sometimes find their dimensions on the big screen. The two October movies explore with a lot of humor the theme of the quest through the notion of family. After having questionned the theme of identity and sexuality during the first session with Les garçons et Guillaume, à table ! , Adieu les cons will take you with crazy chracters undone by life on a zany investigation to find a child born under X.

* * * WHAT YOU NEED TO KNOW * * *
Date : October 27
Time:6:30 pm
Duration: 2 hours of screening + Discussion Time (1 hour approximately)
Place : Center City Location - 1420 Walnut Street - Suite 700 - Philadelphia
Group Size: 20 maximum
Language : The movie will be in French with English subtitles. Discussion time will be both in French and English depending on what each person is most comfortable with ! We encourage exchanges of any kind.
Fee: Free for Members / Donation-based for non members : you can pay what you want !
Registration: at least 48 hours prior to the event (depending on the number of places left)
* * * HEALTH & SAFETY * * *

We would like to remind you the following in-person events' étiquette :
Covid proof of vaccination required

Mask required during this event
* * * NEXT SESSIONS * * *

NOVEMBER : L'Afrique des années 70 sur grand écran - Africa in the 70s on the big screen
NOVEMBER 10 : Aya de Youpogon de Marguerite Abouet et Clément Oubrerie

NOVEMBER 24 : Notre-Dame du Nil d'Atiq Rahimi


DECEMBER : Un autre regard sur la France - Another view of France
DECEMBER 8 : Roubaix, une lumière d'Arnaud Desplechin

DECEMBER 22 : Au nom de la terre, d'Edouard Bergeon


JANUARY : Adolescence(s)

JANUARY 5 : La vie scolaire de Grand Corps Malade et Mehdi Idir
JANUARY 19 : Premières solitudes, de Claire Simon

Image: /media/marketing_events/220/Le-ciné-de-l'Alliance-4.png
Sorry, you've missed the RSVP deadline for this event.