Home
›
Products
›
Af-perfume-masterclass
Description:
[EVENT IN ENGLISH]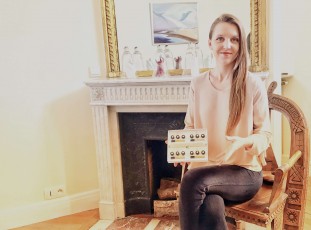 Do you know what your perfume says about you? Join Anastasia Sokolow, founder of la Maison Sulékó and member of the French Society of Perfumers, from her Parisian showroom, as she reveals the mysterious language of scents. This workshop will allow you to choose a perfume that truly defines you and will accompany you in your life.


Anastasia will take you on a journey through the four seasons, punctuated by olfactory discoveries, poetry and art. She will show you the process of creation and the steps of the composition of a perfume, respecting a centuries-old French savoir-faire. You will explore the universe of aromas through 12 exceptional scent ingredients, learn about their origin and their extraction mode.
You will start by learning the « alphabet », which , in the world of perfume, translates into scent ingredients, raw materials. You will discover the 12 scent ingredients: natural essences, synthetic molecules, absolutes and you will learn about raw materials: how they are extracted, how to smell them and how to memorize them. Then, you will learn about the messages that they convey by listening to poetry and discovering paintings.
Having learned the "alphabet", we shall then proceed with the discovery of « short stories »: perfumes. You will learn how ingredients come into play to create a perfume and you will discover the 4 Sulékó "Eau de Parfum". You will learn about our process of creation and how to apply a perfume.

This initiation to the world of perfumes will help you refine your sense of smell and determine, which perfume truly matches your personality and your state of mind.

During this masterclass, you will also discover the art of porcelain and the exceptional savoir-faire of the artists with whom the perfumers collaborated for the creation of the Bottles-Sculptures Sulékó.

Before the event we will send you a luxury kit with 12 different scent ingredients, 4 samples of perfumes, and 1 manual.

*The kit can be used by 2 people but you can't split it. To enjoy it in its entirety you need to be in the same room as your guest.